The Exibition Sites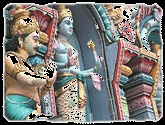 SRI KRISHNAN TEMPLE
Consideration of  BELIEF  is also reflected in the choice of exhibition venues. A number of art works will be placed within a selection of religious sites in Singapore, with the aim of cultivating thoughtful and unique encounters between historically important spaces of belief and art.
Other exhibition sites include City Hall, the stage for many historic events associated with Singapore's nationhood; public spaces along the shopping thoroughfare Orchard Road; a Housing & Development Board (HDB) estate that provides affordable public housing for Singaporeans and Tanglin Camp, a cluster of colonial buildings that previously housed major departments of the Ministry of Defence.
Two young architects, Josh Comaroff  (Lekker Design) and Mark Wee (Kennel), have also been appointed as the Exhibition Designers for the Biennale. In order to meet the variety of challenges and contexts offered by the unique choice of exhibition venues, they will be working closely with the curators and the artists on the installation of the artworks for SB2006. Exhibition signage, amenities and public access will be an integrated feature of their exhibition design.
Two of the Exhibition Venues ...
Singapore Art Museum (SAM)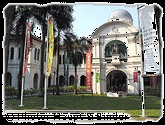 Singapore Art Museum (SAM) is Singapore's national art museum, and a member institution of the National Heritage Board (NHB). With over 7,000 works in its permanent collection, SAM has the largest public collection of 20th century modern and contemporary Southeast Asian art. Known for its dedication to research, scholarship, exhibition and presentation of Singapore and Southeast Asian art in the broader context of Asia, SAM has been actively promoting a greater appreciation for modern and contemporary Asian art through its programmes. SAM has over the years presented numerous exhibitions and initiated several series of exhibitions with the aim of developing a platform for art history and contemporary art practices.
Sculpture Square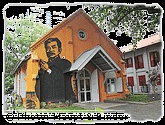 Sculpture Square is a contemporary art space designated for the advancement of 3-dimensional art practices and productions, principally by artists in Singapore and Southeast Asia. With a focus on modern and contemporary practices, Sculpture Square hopes to highlight and examine prevailing approaches to creativity and their reception, and aims to push towards fresh frontiers by forwarding new ways of thinking and making art in the 3-dimensional domains.
Opening Event
The Singapore Biennale's opening event on 1 September 2006 will feature specially commissioned art projects. This event will take place at the Padang, in front of City Hall, one of the Biennale's main exhibition venues.
Key Events
Media Preview: 1st to 3rd September 2006
Press Conference: 1st September 2006, Morning
Opening Party: 1st September 2006, Evening
Performances at City Hall: 2nd September 2006, Morning
Performances at Tanglin Camp: 3rd September 2006, Evening
Exhibition Period: 4th September to 12th November 2006
Closing Event: 11th November 2006
Related Events
Opening of Exhibition at VivoCity: 19th October 2006
'Telah Terbit' (Out Now): Southeast Asian Contemporary Art Practices During the 1970s
Pushing through the 1960s, where modes of abstraction were adopted as an expression of progressiveness and at the same time an instrument of international engagement, the 1970s art practices may be seen as a critique on the variants of modernity that emerged out of the processes of decolonization and independence. 'Telah Terbit' (Out Now) follows the progression of Southeast Asian artists and art groups such as FX Harsono and Gerakan Seni Rupa Baru (Indonesia), Sulaiman Esa (Malaysia), Cheo Chai Hiang (Singapore), Pratuang Emjaroen (Thailand), Pablo Baeaesthetics of both empathy and rejection.
This exhibition is curated by Ahmad Mashadi, Senior Curator and Lim Qinyi Assistant Curator (Programs) of Singapore Art Museum.
VivoCity Public Art Project
VivoCity will be the only venue where artworks for the Singapore Biennale will be permanently displayed. A collection of seven outdoor art and street furniture designs by six international artists are being specially commissioned by VivoCity for the Biennale.
The six participating artists are: Michael CHEUNG, CHOI JeongHwa, Inges IDEE (artist collective), Marc RUYGROK, Henk VISCH, Hiroshi YOSHIMIZU. Curated by Fumio NANJO, these fun and engaging pieces will complement the multi-dimensional experiences that will constantly surprise and stimulate visitors to VivoCity. This collection will be unveiled on 19 October 2006.
JOSHUA COMAROFF
Joshua Comaroff is an architect and landscape architect. Upon graduating from Harvard Design School, Josh co-founded with Ong Ker-Shing, Lekker, a small design practice. Josh also heads Millions of Moving Parts, a Los Angeles collective exploring new systems for ecological change. He is a co-author, with Rem Koolhaas, of the forthcoming Harvard Project on the City: Lagos
MARK WEE
Mark Wee is an architect and artist. Upon graduating from Cornell University, Mark worked at DP Architects till Feb 2006 where he co-founded with Loh Lik Hwa, Kennel, a small design practice. At DP, Mark and Lik Hwa were the design team for the New Majestic Hotel, a luxury boutique hotel in Chinatown. Outside architecture, Mark also does set design and illustration, recently completing an illustrative set for the Singapore Dance Theatre's production of Nutcracker and a work in a guest room at the New Majestic.
Mark and Josh have undertaken a number of design projects together outside of their own practices, including the set design for Theatreworks' production of "Ma:Moment" in 2004, and the Holloway and Sidin Museum of Architecture in 2005.
20 July 2006
Source:www.singaporebiennale.org