Encounters ...
Encounters Series
As part of a larger community building program, the Singapore Biennale established a series of public platforms called Encounters. The Encounters series can range from dialogue sessions with the curatorial team, to artists' talks and workshops, to press conferences, symposiums, forums, and other social events usually associated with other international Biennales. Encounters either take place in Singapore or at international art events including art fairs, biennales, forums, etc.
Since July 2005, SB2006 has organized 19 Encounters including one in Yokohama, one in ARCO, Madrid, and one in New York City in collaboration with Gwangju Biennale 2006 as part of the cross marketing efforts to tie up with other Biennales opening in the region. The Encounters so far have featured talks by international artists like Barbara Kruger, IEPE, Nakhee Sung, Com & Com and Jonathan Allen.
These Encounters sessions serve as feedback mechanisms for the Biennale as it is being organized, developing a sense of ownership from various segments of the local community for this large scale event. It is expected that there will be up to 50 Encounters when the Biennale closes in November 2006. To find out more about upcoming Encounters please visit www.singaporebiennale.org
Education Programme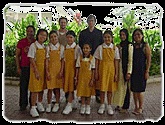 Many education and outreach programmes have been initiated for SB2006, carried out by various Biennale artists. At  City Hall  and  BlK 79 Indus Rd,  Takafumi Hara   will create artworks based on his interviews with the general public and local residents respectively.
Com&Com will involve local students in making paintings and drawings of Merlion and Mocmoc (a mythical creature created by Com&Com), while Learning Site  will collaborate with a kindergarten at Blk 79 Indus Rd on an art project that involves growing mushrooms!
HARA, Takafumi

Born in Tokyo in 1968, Takafumi HARA obtained a masters degree in painting from Tama Art University, Tokyo in 1992. He worked as assistant at Tama Art University from 1995 to1999.
In 2000, he obtained a one-year scholarship for an overseas study programme for artists from the Japanese government's agency for cultural affairs. After which, HARA studied at the Art University Berlin-Kunst hochschule Berlin-weissensee hochschule as a guest student. He was awarded a scholarship from the cosmetic company "Pola Art Foundation" and stayed in Berlin from 2002 to 2003.
Hara is currently based in Berlin and Tokyo.
Com & Com

HEDINGER, Johannes M.
GOSSOLT, Marcus
Johannes M. HEDINGER and Marcus GOSSOLT live in Zurich and in St. Gallen, Switzerland. They founded the art label Com&Com (Commercial Communication) in 1997. In 2003, they created Mocmoc, a colorful creature and public art commission for the city of Romanshorn, Switzerland. Com&Com's first film "C-Files: Tell Saga," a faux trailer to a nonexistent feature film, was featured at the Venice Biennale (2001), curated by Harald Szeemann. In 2002, their hit song and music video, "Side by Side" hit the Swiss Top Ten charts. They have completed an experimental-poetic film in the Californian desert entitled "The Big One," and are developing an ongoing project on the marketing of a human child.
Com&Com have been featured in over 13 countries and 70 exhibitions and festivals, including the Sharjah Biennale (2005) and solo exhibitions at Kunsthaus Zürich and Kunstwerke Berlin.
Learning Site

WENDT, Cecilia
LUTHER, Rikke
CASTRO, Julio
Consisting of: Cecilia WENDT, Sweden and Rikke LUTHER, Denmark, (co-founders of the artist group N55) and Julio CASTRO, Mexico, (co-founder of the artist group Tercerunquinto).
Learning Site is the name of a group of loosely affiliated artists and practitioners from various parts of the world who come together to work on specific projects. They are interested in engaging with and paying attention to local situations (wherever they may find themselves) and developing art projects which are learning platforms and demonstrations about the economic, political and social structures of unused materials, recycled waste or conditions of production in societies. As their name suggests, Learning Site understands art as being related to forms of knowledge production and thus also to dialogue and learning.
They have recently created waste collection and building projects in Japan (2004) and Mexico (2005) using discarded cardboard and paper in Japan and discarded plastic bottles (PET) in Mexico. For both projects they organised workshops, worked closely with local non profit and community groups and built temporary dwellings out of unused materials. Through such initiatives, Learning Site suggests different systems and models for waste management, recycling unused materials, mobilising communities and learning through action.
Walk the Talk Audio Guide
Walk The Talk (WTT) is an audio guide systemthat uses GSM mobile phones. Anyone with a mobile phone will be able to access this service through a dedicated number and listen to guidance services in various languages including English, Mandarin and Malay. Use of this service is subject to local call charges made on a mobile phone.
The WTT listening points will allow the public to learn more about the unique exhibition venues, artworks and artists, etc. The system also allows the public to leave recorded responses to any exhibits.
The system will be launched in April 2006 with a sampling of 15 listening points placed throughout Singapore City Centre. This is a trial period for members of the public to test out the system and familiarize themselves with the functions of the audio guide. By 31 August 2006, a total of 50 listening points covering artworks and exhibition venues will be available for the opening of the Biennale.
This audio guide will not only generate appreciation for the artworks in SB2006, but will also help create contexts for the artworks in relation to the architecture and design of the spaces around them. The intention is to increase the visibility and accessibility of the exhibits to both Singapore residents and visitors as well as create points of interaction with the public. Look out for more information on Walk the Talk at  www.singaporebiennale.org
Singapore Biennale TV
Singapore Biennale 2006 will also create a unique public television series as one of the key components of the outreach program. The program will help bring the Biennale directly into the homes of Singaporeans. Developed as an infotainment program featuring popular hosts from Singaporean TV, the goal is to demystify some of the preconceived ideas about contemporary art to make it something fun, accessible and thoughtprovoking.
A Mandarin version of the series on Channel U is currently being developed with a projected telecast period from September to November 2006. The series will feature a strong public participation component to create a sense of ownership and engagement with the Biennale. Keep an eye out for the Singapore Biennale TV hosts, Bryan Wong and Quan Yifeng, on location in Orchard Road or your neighbourhood shopping mall in the coming months!
Events
The Singapore Biennale 2006 will also feature a number of key events such as the Opening Party. This is a major event to celebrate the start of the 2œ month long event. This will take place at the Padang with the former City Hall as the iconic backdrop. Specially commissioned artworks will be a major attraction during this celebration. The Singapore public will be invited and together with the presence of the participating artists, the international art world and media, the Biennale will open with a bang.
20 July 2006
Source:www.singaporebiennale.org